REVIEWS
"An intriguing, suspenseful, and briskly paced story with complex characters, evocative descriptions of England's Cambridgeshire, plenty of clever misdirection, and a satisfying ending." Kirkus
"Using multiple narrators, as she did in The Start of Everything, Winslow spins the plot to a satisfying and humane conclusion, with Keene and Frohmann again proving to be a winning pair." Booklist
"Winslow's kaleidoscopic narrative technique, employing first-person accounts from multiple characters, makes for engaging reading." Publishers Weekly
"What seems at the outset to be a textbook psychological thriller is anything but. The twists and turns make Winslow's fourth Keene and Frohmann mystery a compelling read. Verdict: Former games creator Winslow has turned her talents to a very entertaining and readable thriller that can hold its own with the best of the current crop. A good choice for mystery book groups." Library Journal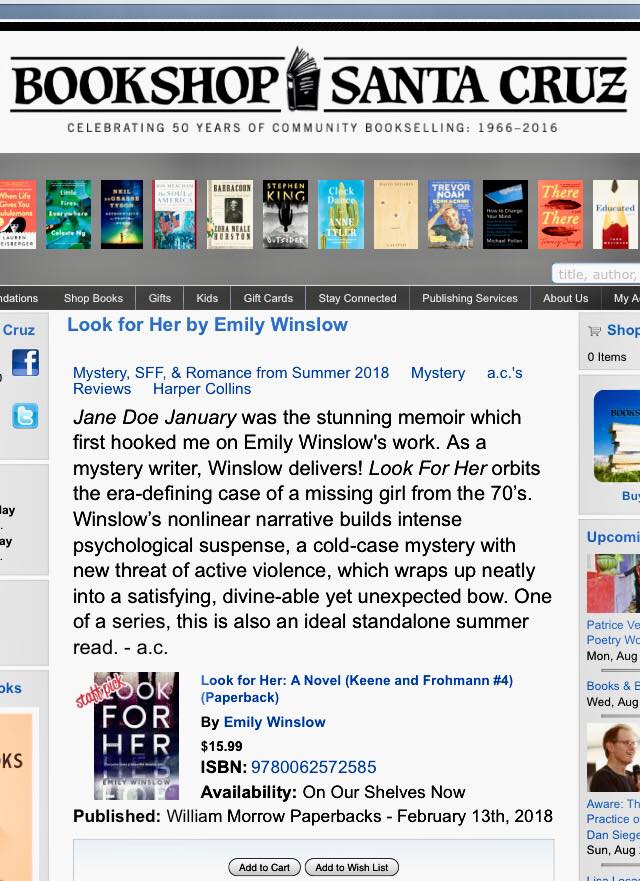 "With the release of Look For Her, author Emily Winslow not only raises the bar, she kicks it out the park….Not only is Look For Her a fantastic mystery thriller, but it's a sharp portrayal of grief, curiosity and jealousy. If you aren't already reading the series, you definitely should be." —BookTrib
"Look For Her was my introduction to the beautifully complex Keene and Frohmann series by Emily Winslow….
This is a straightforward case that escalates over the course of the novel. There are a few gorgeous twists and turns, on the way. Deaths in the present day. Surprise secret off-spring. Dysfunctional families. The haunting of an entire community by a shocking death. You completely get a sense of a community adrift and still feeling the after effects of the death of the infamous Annalise….
Haunting and fabulous, multi-layered and intelligent. We get some great characterisation. I particularly was drawn to Dr Laurie Ambrose and her counselling sessions, together with her complex grief on the death of her husband. A series to discover and fall in love with." Northern Crime
"With her trademark skill in weaving together multiple perspectives and voices, Emily Winslow paints a complex and compelling portrait of a cold case that is far from dead and buried….
From the opening lines of Look for Her, a psychologist's transcript of a session with a client, Winslow's talent for characterisation and building suspense is once again on display….
The alternating first-person narrative structure places readers deep inside the minds of characters (old and new), offering unfettered access to their hopes and fears, rational or otherwise. Very few of the characters are endearing, but the combination of raw emotion and psychological sophistry is beguiling….
Look for Her is the most devious and cleverly plotted mystery from Winslow yet….And the denouement, intelligent and truly unexpected….If you enjoy gritty drama, literary thrillers and compelling crime puzzles, I wholeheartedly recommend Emily Winslow's Look for Her and entire back catalogue." —Booklover Book Reviews
"This book gripped me immediately….The writing is really detail-rich and while the characters all have their own flaws, they're each easy to root for in different ways. There's something so fascinating about a cold murder case, and I'm finding this book to be the perfect companion to my other current read about forensic criminal profiling. The elements of the story are extremely human, and even though much of it is about death, I'm finding the author has quite a bit to say about life, too….This month's book might just be my favorite to date." —My Subscription Addiction review of Look For Her in Pagehabit's February 2018 subscription box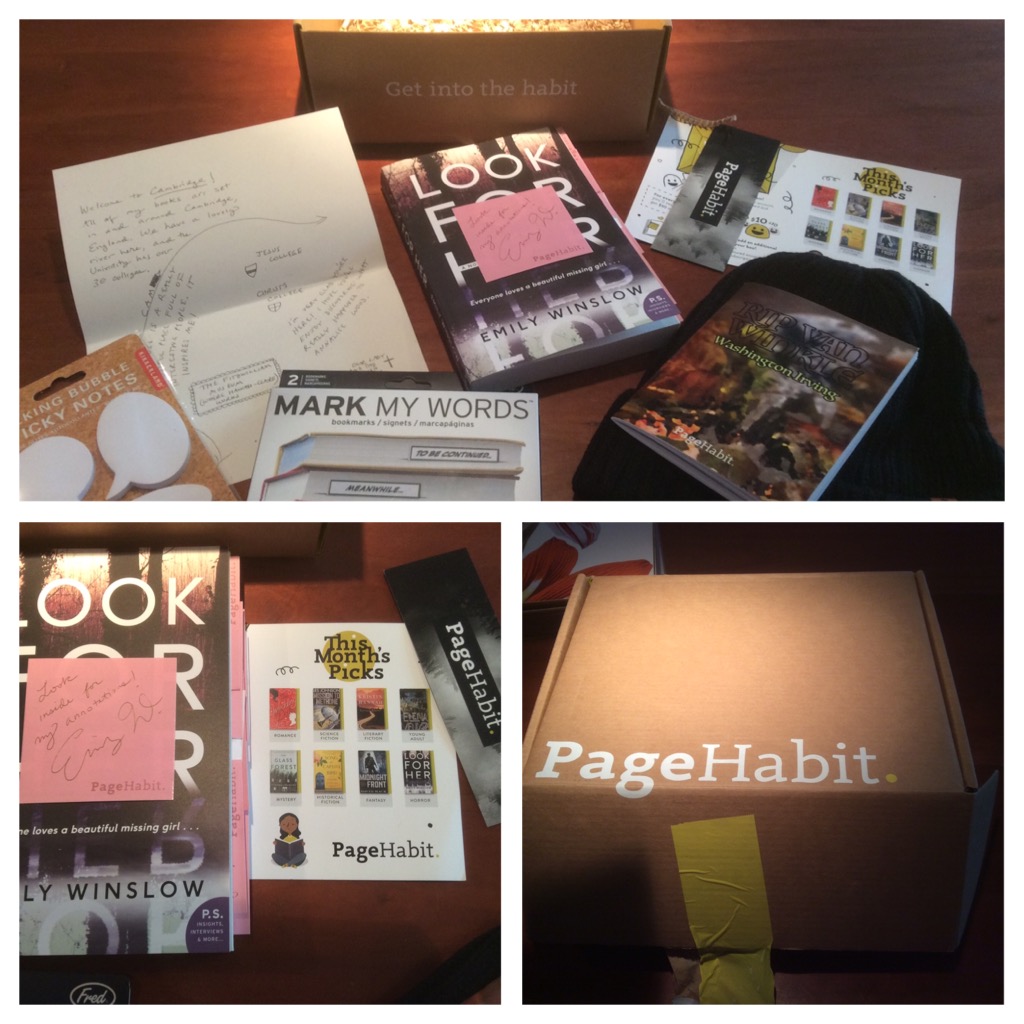 "Winslow's novel is a compulsive page-turner….Anna Williams is definitely the most complex and interesting character in this novel, but Winslow's narrative is packed with them. From lost, grieving Dr Laurie Ambrose to naïve, vulnerable Hannah-Claire. All of Winslow's characters will have you hanging on their every word and desperately waiting for the next plot-twist….I would highly recommend this book to any thriller/mystery lover who takes joy in indulging in brilliant characterisation and suspense. Watch out for this novel, it is going to be big!" —The Bookbag and The Book Blossom
"Look for Her is a twist-filled police procedural that is intricately-plotted and well executed. Morris and Chloe are fantastic protagonists….Emily Winslow brings the novel to a stunning, but completely satisfying, conclusion." —Book Reviews and More
"An accomplished addition to the series, Winslow's ability to shade people and show their many sides adds texture and believeability to the story, even as both obfuscate the complicated truth….Cambridge and its environs are meticulously woven into the fabric of the story…the presence of the ancient colleges residing alongside more modern buildings as yet another character, almost essential to the story….A compelling and intricate plot makes this an evocative read. Highly recommended." —Auntie M Writes
"Family relationships and jealousies emerge and fingers are being pointed. Will anyone ever know what really happened all those years ago? Guesses to the ending keep changing and the ending may surprise you. A great read!" —Reader to Reader
"A fantastic book." —The World As I See It
"[Winslow's] experience with logic puzzles has served her well in plotting out suspense. This is the second book I've read in this series (back to back I might add) and her twisty turny plots are fabulous!…I definitely recommend these if you're looking for a great new series to dive into….There are currently four books in the series. They can actually be read as standalones very easily – you might have some spoilers for previous entries, but you can definitely dive in at any point." —No More Grumpy Bookseller
"One of my favorite types of premise in a mystery is a cold case. I love the idea that a criminal thinks they've managed to stay off the police's radar only for new evidence to be uncovered years later and put their freedom in jeopardy….This was fast paced [and] I flew through it at a rapid pace. There's a heavy emphasis on the psychology of the characters [and] I liked the depth that it added. Recommended for those who enjoy character driven mysteries with smart twists and strong writing." —Novel Gossip
"I really appreciated the good balance of character development and investigative technique….I recommend this mystery to readers who enjoy thinking through a complex plot in which some suspects present lies and some of the evidence seems contradictory." —Book Reviews from an Avid Reader
"Look For Her is a terrific psychological thriller with many twists and turns. The sensationalization of the abduction and murder affected many people as did the lies told by those close to Annaliese. It is up to Morris and Chloe to figure out who was buried in Annalise's clothes and who murdered her, and how two unrelated patients of a local psychiatrist, both of whom were obsessed with Annalise, might be involved in the case." —Authors Round the South and recommended by Southern Indies
"Look For Her is one of the better mystery/thrillers that I've read in awhile….I love the inside knowledge and depth of the connection the reader gets with [first person narrators]….I loved getting to know each of the main characters and to see the happenings of the story unravel from each of their viewpoints. It gave the plot a complexity that you normally don't get to experience….I very highly recommend this book for fans of mystery, thrillers, suspense, contemporary and crime fiction!" —A Dream Within a Dream
"WOW! If you like twisty. If you like turvy. Then this book is for you….It was heart pounding and thought provoking. A must for lovers of a satisfying thriller." —Mrs Mommy Booknerd
"The plot is gripping and intricate, the characters appealing and multi-layered, and the ending is twisty and unexpected. Winslow captures the immediate raw horror and grief experienced by family and friends when someone you love suddenly disappears, as well as the long-reaching effects that disappearance has on everyone touched by it….Highly recommended." —It's All About the Book
"There were all of these threads in this book and I loved that the author was able to tie them together in a way at the end that felt like a satisfying but unexpected conclusion. I am now really excited to go back to the beginning of this series and see how it all started!…Bottom Line: A really great mystery that kept me engrossed throughout!" —Booked on a Feeling
"A great story….This is a solid mystery series." —Books Are My Thing
"Totally captivating." —Holly's Little Book Reviews
"I fell in love with this book! It's a seat gripping page turner." —Stormy Nights Reviewing
"Emily Winslow does a good job at delineating a number of very strong, unique characters….The tone of Look for Her is dark with a sadness that prevades the book, just like it does the small town in the novel. I have not read the other books in this series, but this worked as a standalone. I think that fans of dark, twisty thrillers like Gone Girl and The Girl on the Train will enjoy Look for Her as well." —View From The Birdhouse
"I'm thrilled that there are several more books with Morris Keene and Chloe Frohman to read since I found this book to be awesome….I was hooked and I loved that the book seemed to have a straightforward kind of story, but as the story progressed did the author twist and turn everything around so you realize that what you expected was just something that you had imagined thanks to a red herring. I especially enjoyed the ending! It felt just perfect!" —A Bookaholic Swede
"I didn't read any of the previous in the series, however, I didn't really need that in order to understand the relationship between the two investigators, how much they respect each other and how good they are on what they do. This one was a fast paced story, with a number of twists and turns to spice it up. The author uses lies and secrets in order to create a very good mystery that will keep the reader going until it's finished!" —Chill and Read
"There were several overlapping threads in addition to the police case that added to the mystery with intrigue, dead ends, misdirection, secrets, lies; flawed, broken, and vile yet compelling characters; and the ongoing family dramas of the various households of the characters contacted and involved in the case. This was a slowly developing story and I enjoyed Ms. Winslow's unpredictable and densely packed storylines as much as I did the compellingly crafted and flawed characters." —Books and Bindings
"Also taking a major role in this book is likable therapist Laurie Ambrose who ends up mixed up in these cases. She's smart and great at her job and is also a very human, worried mom of two college-aged children. The reader isn't sure if Laurie will be helping solve the crime or if she's a potential victim and that question adds to the suspense of the book. The story of the cold case investigation and the new murder case is told in the first person, but with alternating narrators. The book is in large part a police procedural, which I enjoy, especially British procedurals like this one. For readers who don't like the pace of a strict procedural, with the addition of Laurie Ambrose's therapy session notes and insights, Look for Her also has elements of a psychological thriller. The book is well-written with a few different twists and turns that kept me interested and surprised throughout the book." —Smitten by Books
"Buckle up and hold on tight because this one is sure to take you on literary journey you won't forget, it's riddled with twists and turns, you will never see coming! As soon as I cracked the cover on Look For Her I was hooked, it started off with a bang, and just continued to get better with each page that followed, just when I thought I knew where things were headed, I'd get hit with another unexpected surprise. This was a first time read for me, and I have to say I was quite impressed with what I found, the story line was enthralling, slightly twisted, and had just enough intensity to keep me hanging on by a thread! The characters were downright amazing, each one multilayered, crafted with a realistic feel to them, and complemented each other nicely. Highly recommend you get your hands on this one, it will shock you, toy with your thoughts and emotions, and hold you captive from start to finish!" —Reds Romance Reviews
"The twist at the end was spectacular….The way communities and people grieve over victims is fascinating and this story is a great reminder of this. It is interesting to see how some victims are mourned and grieved, and kept alive through the media and word of mouth for months or years; others are forgotten quickly. This book is not heavy-handed with that sentiment at all, but it is just something that I reflected on while I was reading and even after I finished the book as I thought about real life news stories for a few minutes." —Into the Hall of Books
"Winslow engages readers by creating complex, troubled characters whose motives and inspirations are not readily evident but ultimately make complete sense. She deftly mines the implications not only of a decades-old unsolved crime, but the manner in which the dark mystique that has surrounded it has impacted the characters….With unexpected plot twists, as well as few sneaky red herrings, Winslow propels the story and keeps readers guessing until the satisfying ending." —Colloquium
"You'll be fascinated. Don't miss it!" —Mystery Suspense Reviews
"The premise of the story hinted at many aspects I enjoy reading: cold cases, police procedurals, and missing persons that strike a chord with the public. This definitely delivered in all regards and in an especially intelligent and thought-provoking way!…You can see just how a case like this one impacts everyone involved including the community itself. The speculation, intrigue, and attention all work to give the case a life all its own….I absolutely loved the unreliability of all the narrators who each seemed to have some small reason to not be completely forthright….Captivating….[and] immensely satisfying." —That's What She's Reading
"Look for Her is Emily Winslow's well-drawn psychological thriller based on an old unsolved case and how this crime resonates among the community decades later." —Iron Mountain Daily News
"This is the fourth book in the Keene and Frohmann series but I didn't feel lost. The relationship between Keene and Frohmann threw enough clues about what happened in the previous books to keep me in the loop AND make me want to read the previous three, which brings me to my next point: This book was great." —Dangerous Dan's Book Blog
"When the truth is finally revealed, it was not what I imagined and I was genuinely surprised with the ending! This novel would appeal to fans of mystery novels and those who enjoy novels set around cold case investigations. The one piece of advice I can give you, if you read this is trust no one! 4*" —Anne bonny book reviews
"Finish[ed] it in one sitting. I liked the changes in perspective between the different characters, the fact that some of them had their own agendas and you couldn't always clearly see what they were, and how it was all carefully drawn together at the end. Cold cases are quite fascinating, especially as technology as moved on so much and what we can tell now about a crime is so more in depth than in the past, making it both easier and harder to solve them." Ramblingmads
"Quite complex and very clever…This is a really gripping mystery [that] kept me guessing and wondering right to the end. It had good characterisation with a high standard of writing, and I thought the author was very skilful in giving us shocks and twists, none of which I saw coming! A very satisfying and enjoyable read which I highly recommend." Carole's Book Corner
"Author Emily Winslow is a very clever writer and has developed a style uniquely her own…With a variety of well-drawn characters and backstories, red herrings included, this makes for a very interesting read." Red Carpet Crash
"Double the mystery: Winslow gives the reader a page turner that you can't put down, as you seek to figure out where Annalise really is/was, and who really died. You get enough backstory that the reader never feels lost with the main characters, but instead leaves the story wanting to read the previous 3 books!" Bless Their Hearts Mom
"Winslow brings back Keene and Frohmann from her previous books, but Look for Her can be enjoyed as a stand-alone installment….Winslow engages readers by creating complex, troubled characters whose motives and inspirations are not readily evident but ultimately make complete sense. She deftly mines the implications not only of a decades-old unsolved crime, but the manner in which the dark mystique that has surrounded it has impacted the characters." Colloquium
"LOOK FOR HER is a nuanced, thought-provoking portrait of a crime and its aftermath. Beautifully written with an expertly twisty, surprising story, this is a must-read!" — Chevy Stevens, New York Times bestselling author of NEVER LET YOU GO
"A match to the DNA found on a long-dead girl's clothing makes the case look open and shut, but nothing is easy or simple, thanks to Winslow's delightfully devious mind. Surprising and satisfying, you won't be able to stop turning the pages of LOOK FOR HER." Karen Dionne, author THE MARSH KING'S DAUGHTER
"LOOK FOR HER ratchets up the tension while also offering moments of sheer grace. The cold case at the novel's heart–and the chorus of voices obsessed with it–linger long after the last page is turned." Riley Sager, bestselling author of FINAL GIRLS